Seeed Studio Launches a Rugged Gadget Family Designed for the Industrial Internet of Things
With passive cooling and isolated inputs and outputs, this DIN-rail mountable gadget can turn its hand to a range of tasks.
Seeed Studio has announced the launch of a rugged gadget family designed for the Industrial Internet of Things (IIoT), powered by a Raspberry Pi Compute Module 4 (CM4): the EdgeBox-RPi-200 range.
"EdgeBox-RPi-200 series are all-in-one Raspberry Pi-based industrial edge computing controllers," Seeed Studio's Jena Liang explains of the company's latest launch, "combining multiple industrial purposes. Designed as high-scalability and rugged industrial hardware, mounted with rich IO resources and supported by the great Raspberry Pi industrial software ecosystem, it is an ideal choice for smart automation and Industrial Internet of Things (IIoT) solutions.
Seeed Studio is hoping to take on the IIoT with its Raspberry Pi Compute Module 4-powered EdgeBox-RPi-200. (📷: Seeed Studio)
The EdgeBox-RPi-200 family, four models strong at launch, may be ruggedized but that hasn't cut into the feature list: each box includes two isolated digital inputs and another two digital outputs, an isolated RS485 connection, RS232, two USB 2.0 ports, an HDMI 2.0 video output supporting up to 4k60 video, and an M.2 slot compatible with 2242-sized Non-Volatile Memory Express (NVMe) solid-state storage.
On top of that is a gigabit Ethernet port, integrated 2.4GHz and 5GHz Wi-Fi, Bluetooth 5.0 and Bluetooth Low Energy (BLE) support, and a mini-PCI Express (mPCIe) slot for optional 4G cellular, LoRaWAN, or Zigbee radios. Precise specifications, however, vary by model: the entry-level version has 1GB of RAM and 8GB emmC storage with no Wi-Fi or Bluetooth connectivity; the remaining models all include the Wi-Fi and Bluetooth radios plus 2GB of RAM and 8GB eMMC, 4GB of RAM and 16GB eMMC, or 4GB of RAM and 32GB eMMC. All share the same core features of the Raspberry Pi Compute Module 4 range: a quad-core Arm Cortex-A72 processor running at 1.5GHz and a Broadcom VideoCore VI graphics processor.
The EdgeBox design includes passive cooling and DIN rail compatibility, plus isolated inputs and outputs. (📷: Seeed Studio)
Seeed says it is positioning the EdgeBox-RPi-200 range for a wide range of use-cases, from programmable logic controller (PLC) and programmable automation controller (PAC) work to IoT gateways, local server, and even industrial-grade personal computing. Interestingly, the company is also working on a variant that does away with the Raspberry Pi Compute Module 4 altogether — instead packing an Espressif ESP32 microcontroller and an embedded 4G module, to be launched later this month as the EdgeBox Lite.
The EdgeBox-RPi-200 is now available from Seeed Studio's web store, priced at $229, $239, $269, and $279 for the four models respectively; pricing for the EdgeBox Lite has not yet been confirmed.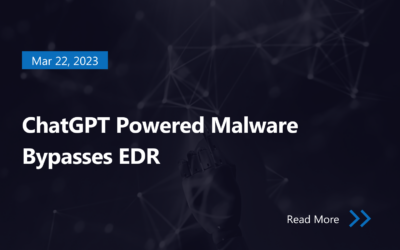 In research by Jeff Sims at HYAS, he creates "Blackmamba," an "AI synthesize polymorphic keylogger" that uses python to modify its program randomly. The basic components of this polymorphic keylogger require a LLM, large language model like ChatGPT. The malicious...
read more