We are pleased to announce that we have earned a Solutions Partner designation in the Security solution area. By attaining the Security partner designation, our Cloud Security business unit demonstrates the breadth of capabilities in delivering customer success based on Microsoft cloud security technologies. To achieve this designation, we increased our customer reach, expanded technical skilling with advanced certificates, grew usage and the number of solution deployments.
The Solutions Partner designations provide a clear and easy to understand way for customers to identify Microsoft partners having the necessary skills and experience to deliver high quality security solutions based on the Redmond giant's technologies. Our current and future customers can take comfort from the fact that the designation is based on rigorous requirements that reflect the latest advancements in cybersecurity, thus ensuring that partners who hold them are always utilizing state-of-the-art cyber practices.
To demonstrate our deep knowledge, extensive experience, and proven success in protecting our customers against threats by deploying Microsoft Threat Protection, Cloud App Security and Azure Sentinel workloads, we are applying to Threat Protection specialization. Customers are looking for reliable partners and new ways to proactively protect and monitor the security of IP and customer data to safeguard their business.
A constantly evolving threat landscape requires not only protection against threats but security incident detection and rapid recovery capabilities as well. However, managing security is a challenge for many organizations as the number and severity of threats continues to grow and there is a shortage of individuals with qualified security skills. That means many organizations will count on partners like Black Cell to secure their business-critical systems and data.
Black Cell's cloud security solutions enable our customers secure their Microsoft ecosystem with a trusted partner. With Microsoft's security solutions Black Cell offers a familiar suite of tools and services that are advanced, cost-effective, integrated into the Microsoft ecosystem. However not every organization has the expertise needed to leverage Microsoft security technologies for effective threat detection and response. Black Cell offers a complete managed detection and response service based on Microsoft 365 Security technologies such as Defender for Endpoint, Defender for Office 365, Defender for Cloud Apps, Defender for Cloud and the cloud native SIEM, Microsoft Sentinel.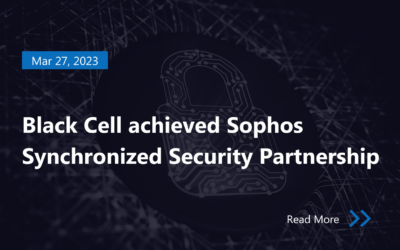 Mar 27, 2023 | Company News
Black Cell, a Sophos Platinum Partner, has been recognized for achieving the Sophos Synchronized Security Partneraccreditation. This recognition is a testament to the expertise and commitment of Black Cell's securityprofessionals who have completed a specialized...
read more